Rose Studies exhibition catalogue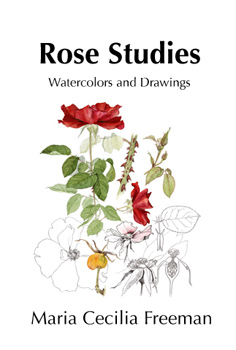 Most of the watercolors and drawings shown in the Rose Studies gallery were included in solo exhibitions at the Horticultural Society of New York in June 2010, and the San Francisco Botanical Garden January through April 2011.
The catalogue for the exhibition contains introductory essays, and full-page images of both the watercolor and the drawings for 'Jude the Obscure', 'Faith Whittlesey', 'Golden Threshold', 'Mutabilis', 'Harison's Yellow', Rosa fedtschenkoana, Rosa gigantea, Rosa chinensis spontanea, Rosa foetida bicolor, Rosa moschata, Rosa roxburghii normalis, Rosa gallica, and Rosa californica — plus watercolors of 'Altissimo', 'Francis E. Lester', 'Knock Out', and Rosa rugosa.
The full-color catalogue, 40 pages, 8" x 5.5", is $20.